A story of Meunier, Tragedy and Triomphe starring the 4 generations of the family Moussé
Interview with Cédric Moussé of the Champagne house Moussé Fils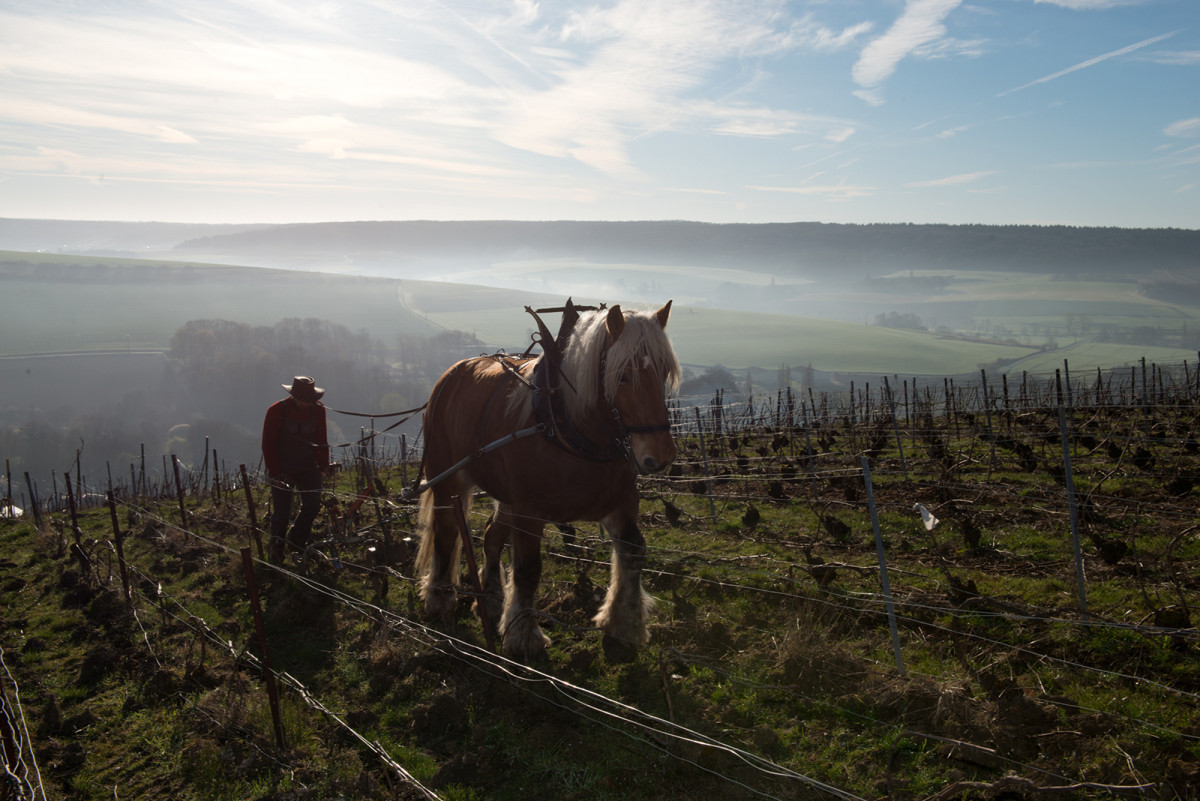 Drive about one hour east from Paris and you'll find yourself in
Champagne.
Here, in the valley of the Marne River, you'll find
the bucolic village of Cuisles that Cédric Moussé calls home
and knows so well. Cédric is one of the young generation of champagne
makers and the village is where the story of his family,
sometimes triumphant and sometimes tragic, has played out.
There have been 12 generations
of vignerons in the Moussé family, all of them based in
Cuisles, but it was Cédric's great grandfather, Eugène Moussé,
who was the first to start making champagne under his own
name back in 1923.
His son Edmond met a young woman called Micheline, the daughter
of a soldier who was based near Cuisles in the last war. They
married in 1953 and had three boys.
The eldest, Jean-Marc, joined his father to run the
family business in 1979 after completing his studies at Châtillon
sur Marne.
The two of them worked side-by-side until
Edmond's death in 1990.
In 2000 Jean-Marc's son, Cédric, completed his degree from the
viticultural college in Avize and then went straight off in
search of new experiences.
His travels took him as far afield as California but also to places
nearer to home such as Château Trocard in Pomerol. On his return
to Cuisles his father decided to put Cédric in charge
of the vineyards.
"From 2003 until 2007 he insisted that I stay in the vineyards.
He didn't want to let me anywhere near the cellars! However
Cuisles and the neighbouring villages are unique and I
needed time to get to know all the different terroirs" says Cédric.
And so father and son worked together until they had the
idea of building an 'Eco-responsible' winery.
In 2005 Didier GIMONNET, of Champagne Gimonnet et Fils and
Jean-Pierre VAZART of Champagne Vazart-Coquart Fils approached
Cédric and invited him to join the Club Trésors de Champagne.
Jean-Marc let Cédric decide whether, or not, to accept the
invitation.
Cédric was certainly interested but only on the
understanding that he would be allowed to create a 100% Meunier
champagne for the Special Club. It was to be the first of
its kind.
Whenever anyone asked Jean-Marc
his view on whether Meunier was a lesser quality varietal
than Pinot Noir or Chardonnay, he would
reply:
"I couldn't disagree more. I understandthat it suits the
big houses to say that because it allows
them to buy lots of grapes at low prices,
but it's not true. You can make superb wines from Meunier. It
has aromas that you just don't find in other varietals. Yes,
Pinot Noir is more complete and powerful, but it doesn't have
the fruitiness of Meunier. We absolutely love Meunier here."
Cédric's father Jean-Marc lost his life in a tragic accident in
December 2013, just two months after the end of the harvest.
"What can you? That's life and some days are just plain difficult,"
recalls Cedric. « 2013 would have been such a wonderful
year too ; the harvest was late, in October, but it turned
out to be the first year I had to make the wines on my own. »
In fact Jiles Halling made a short video of that 2013 harvest
at Champagne Moussé Fils and at the end of the video
you can see how passionate and vibrant Jean-Marc was.
He loved his work and his life and was very proud to see what his